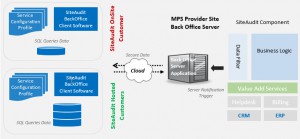 Integrating SiteAudit data with critical business processes is seamless with SiteAudit connectors. Netaphor offers a variety of connectors and integrations to provide printer assets, supplies, volumes, and incident data to third party applications. Data can then be used to process meter invoices, initiate supply orders, or identify service problems.
Applications
Connectors utilize SiteAudit Back Office Services to integrate data with ITSM applications like ServiceNow®, all which results in cost savings by automating and consolidating labor-intensive operations.
SiteAudit ServiceNow Connector
The SiteAudit ServiceNow Connector provides a complete inventory of printers and more importantly it automates incidents processing and associates them with workflows. Now IT asset managers get their inventory report when they want it and tickets open as soon as the incident happens without requiring manual input and there's no possibility of error in ticket transcription. Response time improves and printer availability goes way up.
At-A-Glance Integration Applications
– Invoice and billing
– Customer Relation Management (CRM)
– Enterprise Resource Planning (ERP)
– Help desk and support
Key Features and Benefits
– SiteAudit data-on-demand
– Data filtering
– Secure communications
– Out-of-band back channel
– Single I/F for all applications
– Uses REST API
Datasheets
Click to view or right-click to download a datasheet:
SiteAudit BackOffice Services (EN)  |  SuppliesNow SiteAudit Connector (EN) |
SiteAudit Connectors (EN) | SiteAudit Connectors (DE) | SiteAudit Connectors (ES) | SiteAudit Connectors (FR)